Could you benefit from support in a critical matter?
What we can do together: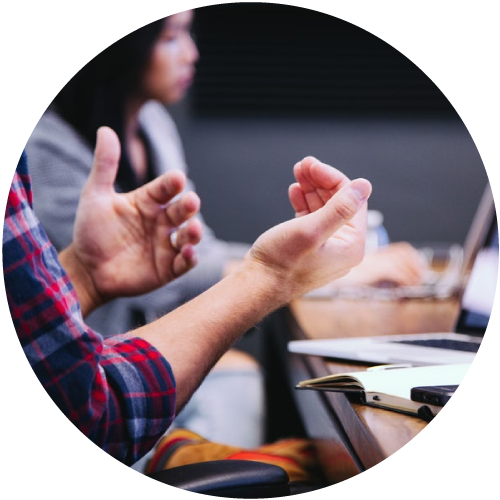 Defuse Dispute Deadlocks
When you've tried to be reasonable yet a situation remains in deadlock, we can help you introduce constructive steps that can defuse the impasse.  We'll help you
open possibility and
create options that will improve the situation.
You'll gain insights into these blockages so in the future, other obstacles will be seen as a path to identify and create new opportunities.
Negotiate Key Agreements
We'll take you through 5 key elements of negotiation when handling business agreements, supply contracts and other critical situations demanding strategic thinking. You can engage us to
negotiate on your behalf,
mentor your people to be fully prepared for a negotiation, or
work as the intermediary to help attain the optimum outcome
Overcome Change Obstacles
Resistance is a natural human reaction to change. We leverage a researched framework to
identify specific resistance
understand their underlying drivers
manage and rectify the issues
to help you ensure your change management program meets its milestones. We are able to help you implement a prevention program that will help you plan for, embrace and address anticipated resistance upfront.
Facilitate meetings and workshops
When critical moments require your presence and participation in an important workplace meeting, board meeting or client presentation we can facilitate. We are able to assist you :
define and work through a comprehensive agenda
ensure all underlying thoughts and needs are surfaced
record the meeting and;
ensure all agreements are documented & followed up.
Conduct Mediation
Our Dispute Advisers are nationally accredited mediators (NMAS) and can offer formal mediated services in a very diverse range of areas.
We help individuals fully appreciate their alternatives, identify helpful options to reach a suitable agreement and avert the need to pursue a painstaking course through prohibitively costly formal processes or litigation.
Prepare for Mediation
When your litigation has been referred to mediation, you will need a distinctly different preparation to that of a legal argument, prepared to date, by your lawyers.  Do not mistakenly walk into a mediation without being very clear about your underlying interests in this matter and 7 other key factors that will influence an outcome.
When your legal counsel has not prepared you for the above, we can ready you to attain a worthy, wise mediated outcome.
We're here to provide you with more information, answer questions and guide you through whatever you're facing. Call (03) 9491 8211
Organisations We've Worked With